Create a Memorable Experience
Odds are, the most memorable wedding receptions you've attended involve the dance floor being packed with smiling faces until the wee hours of the morning. And there's no question you want the same high energy, unforgettable celebration for your own special day. At a wedding, a live band is what transforms something ordinary to simply extraordinary. Live music for your wedding reception offers a more personal feel that captures the crowd's emotions from the very first chord.
So How Much Do Live Bands Cost for Weddings?
Ultimately, it's the power live wedding music has over you and your guests' overall experience that makes it so important to budget and hire first-rate entertainment for your wedding day.
Yes, a professional wedding DJ will be more expensive than your uncle creating a sharable playlist. Yes, a live wedding band will cost more than your sister singing sappy covers from a mediocre sound system. Yet, time-and-time again, couples agree that the price tag is well worth the investment. Hiring professionals who are adept to reading the room means a seamless flow of music to keep the dance floor jammed from beginning to end.
Like all good things, expertise does come at a price. Live wedding bands and DJs for hire prices are dependant on a multitude of factors such as; number of musicians, hours booked, equipment required, lighting, number of guests, and size of the event space. Take time to get clear on your every desire before contacting potential entertainers.
Wondering How to Hire a Wedding DJ or Live Band?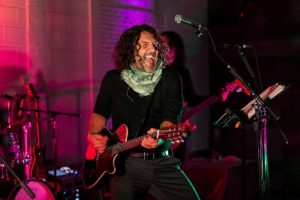 Still searching for the best live, custom wedding band Toronto has to offer? Looking to hire a DJ? For over a decade, MJBE has been providing exceptional event entertainment with Toronto's best wedding and event musicians, professional DJ's, and AV technicians. Years of experience have allowed us to understand that your wedding day is just that – yours, and we are here to facilitate the execution of your vision with precision and grace.
Our talented musicians are extremely well-versed in a plethora of genres and aim to play unforgettable sets to create the reception of your dreams. Not to mention, we're willing and able to learn special song requests to make your wedding that much more memorable. You can book the best wedding band Toronto has to offer today! Your extraordinary wedding day is just a phone call away.