Finding your Dream Wedding Photographer: 20 Questions to Ask Before Booking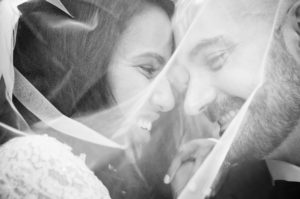 Once the vows have been proclaimed and the rings have been exchanged, it's your precious wedding photos that will remain to transport you back to that special day for years to come.
Choosing a professional wedding photographer who can expertly capture the essence of your wedding day and is enjoyable to be around is a crucial step in the process of planning. The key to finding the perfect photographic match? Open the lines of communication and ask some intentional questions before committing to book.
Unsure about what to inquire when interviewing potential photographers for your wedding festivities? At MJBE we understand that brides and grooms are inundated with a long list of 'to-do's' before their big day, and have compiled a list of relevant questions to ask so your nuptials can be captured without a hitch.
Before booking, ask your wedding photographer the following questions:
How long have you been a professional wedding photographer?

Will you be shooting my wedding? And, if not, can I meet the photographer who will be?

Will you have any assistants with you?

Have you ever photographed at venues similar to mine before?

Have you shot weddings during COVID-19?

What is it like to work with you on the day of a typical wedding?

Can I see more wedding galleries in your portfolio?

What is your photo editing style?

Do your wedding packages include retouching, colour adjustment, and other corrective services or are these an additional charge?

What type of camera do you use?

Can I customize my wedding photography packages?

Can I request specific shots?

Do you offer engagement shoots?

What do your wedding photography packages include and what will I need to pay extra for?

When will I receive my photos?

Can we order wedding prints and albums directly through you?

Do I get to keep the negatives / raw files?

May I have a list of references?

Do you have a backup protocol if you are unable to attend due to illness or unforeseen circumstances?

How can I secure my wedding date?
We hope that this wedding day photography checklist helps you if you are wondering how to plan a wedding. If you're looking to book now, look no further than MJBE. We boast a team of the best wedding photographers in Toronto and the GTA. Visit our portfolio to see more of our work.