Live Band Vs. DJ: How To Choose For Your Wedding Day
There's no denying that music is both the heart and soul of your wedding day. It tells a story, invokes emotion, connects, inspires, and creates boundless joy for everyone present. Hiring a professional to take care of the musical component of your special day will not only spare your energy, but allows you to partake in the festivities of your marriage without interruption. So how do you decide whether to hire a live band or DJ for your wedding? You need wedding entertainment that excites your guests the whole night through. Here's everything you need to know to select the right music maker for your wedding.
Live Band for Weddings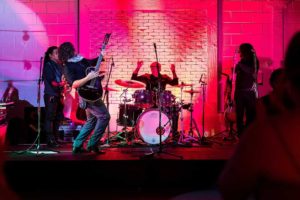 There's nothing quite like a live wedding band to get the crowd excited and up off their seats to create lasting memories on the dance floor. Live bands offer high energy, interactive performances to entertain guests of every age and demographic. Even guests who don't feel like dancing will enjoy watching the live show! At MJBE, our talented musicians have an expansive portfolio of music and seamlessly mashup songs for a non-stop, multi-genre medley to keep the celebration going. We're experts at reading the room and can effortlessly improvise to adjust tempo, lyrics, and personalize songs to make your wedding truly unique and unforgettable. The best part? You can customize the size of your live wedding band to suit your budget, venue spacing and capacity. If you decide on live music for your wedding reception, consider MJBE. The Marc Joseph Band is one of Toronto's top wedding bands, and we have the reviews to prove it.
DJ Services for Weddings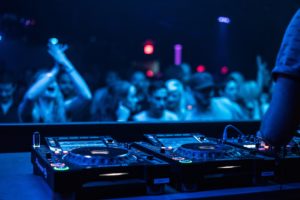 The truth is, professional DJ's are experts at getting the crowd going. They have an endless catalogue of songs instantly available and can therefore adjust the mood of your wedding with the click of a button. They're extremely versatile, take requests, and require very little physical space to operate. Although pre-recorded music doesn't always evoke the same feeling and energy as live music, when you hire a DJ you'll get a diverse selection of songs for every aspect of your wedding day. From ceremony, to cocktails, to dinner, to first dances – a DJ will take you and your guests on a rhythmic journey from start to finish. Not to mention, when you hire a wedding DJ you ensure a smooth flow to your event; no pauses, no intermissions, no stress!
Consider Both Together – Live Band AND a Professional DJ
If your budget permits, consider hiring both a live wedding band and a DJ to work alongside each other to curate the perfect musical accompaniment to your special day. Not only will you have the reliability of twice as many professionals, you'll have a consistent backdrop of music to guide your celebration. With both a live band and DJ the dance floor will stay alive between sets, volume levels will be consistent, and your most significant songs will be played right on time.
Ready to rock your wedding? Whether you're looking to create an unforgettable emotional experience that will be remembered for years to come or simply want to ensure the dance floor is packed all night long, hire Toronto's best live band and DJ for an unparalleled musical experience. Contact MJBE today for all your wedding and music needs.