How a Corporate Holiday Party Will Enhance Your Workplace
The end of the year is quickly approaching and for most of us this signifies a time for merriment and celebration. In the corporate world, December is the most popular month for employers to gather their hardworking employees for a company holiday party.
Whether your office is large or small, hosting an office holiday party with a live corporate band is the perfect way to enhance every aspect of your company atmosphere for the upcoming year.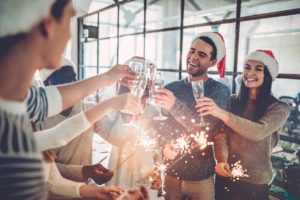 Here are a few perks to throwing an unforgettable year-end holiday gathering with MJB Entertainment.
Create Community
Work holiday parties are something that most employees spend the better part of their year looking forward to. Give your staff the celebration they've been dreaming of and relish in the opportunity to share unforgettable memories on the dance floor with employees, coworkers, and partners. Witness for yourself how one evening of togetherness with Toronto's best live party band can increase the sense of community throughout your office for years to come.
Looking for a way to savour the memories and hold onto the sense of community? We provide photography, videography, and photo booth services to capture all of the priceless moments.
Recognize Efforts
Companies that demonstrate public gestures of gratitude have been proven to have healthier work environments and better staff retention. End-of-year gatherings are a great time to acknowledge individuals and departments who have gone above and beyond for the betterment of the company. Give your staff what they deserve and step up to the podium to give your thanks with MJB's state of the art A/V setup.
Not everyone is confident with handling the microphone. Ask us about our world-renowned DJ services; industry-leading professionals who keep the party going as well as act MC for your event!
Celebrate Diversity
Similar to most modern companies, you likely have a diverse, multicultural, multiage team. Why not host an event that will celebrate the different values of your employees and bring them together in the process.
Our 5 star reviews and consistent demand make MJB the city's most coveted live band for hire. Our talented musicians have perfected a wide genre of music styles from all eras across the globe and can serenade you in six different languages. We are experts at getting every member of your team on the dance floor by playing songs that truly mean something to them.
We can all agree that the best holiday parties for work are the ones that your staff keep talking about for years to come. At MJBE, we transform the ordinary into something truly extraordinary. Contact us today and find out how our top holiday party entertainers can help you to create an event that the whole office will remember!